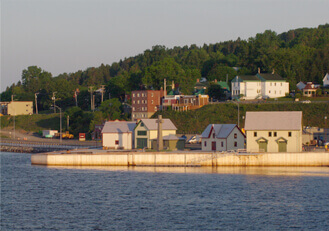 Tours and Rates
2022 SEASON
Interpretation and animation operating mode
Interpretation and animation in the buildings will be back from June 15 to September 29 2022. In order to be able to welcome customers in a safe manner, interpretation zones respecting the 2 meters distance have been identified in all the buildings. Customers will therefore be able to meet and interact in a safe manner with the historic figures of the city's history and make purchases in our souvenir shop. Please note that we don't take reservations for interpretation. All you have to do is go to the site for the visits.
Voluntary contributions : The operating mode will be, again this year, in the form of voluntary contributions. Boxes will be placed in all buildings and customers will themselves deposit the money inside. Contributions are essential to the sustainability of activities and help support our non-profit organization in its mission of preserving heritage. Customer support will be essential, especially this year.
Schedule for the 2022 season
Sunday: CLOSED
Monday: 10 a.m. to 5 p.m.
Tuesday: 10 a.m. to 5 p.m.
Wednesday: 10 a.m. to 5 p.m.
Thursday: 10 a.m. to 5 p.m.
Friday: 10 a.m. to 5 p.m.
Saturday: 10 a.m. to 5 p.m.