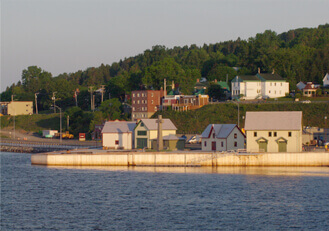 Tours and Rates
2021 SEASON
Interpretation and animation operating mode
Interpretation and animation in the buildings will be back from July 7 to September 27. In order to be able to welcome customers in a safe manner, interpretation zones respecting the 2 meters distance have been identified in all the buildings. Customers will therefore be able to meet and interact in a safe manner with the historic figures of the city's history and make purchases in our souvenir shop. Please note that we don't take reservations for interpretation. All you have to do is go to the site for the visits. However, the waiting time may be longer than usual depending on the number of visitors.
Rules to follow:
Please follow the directions :

start at Davis warehouse, continue to Baker tavern, general store, Leboutillier House and finish with souvenir shop.
Buildings will accommodate one or two groups at time, depending on the area of the building
Wait for the signal from the guide before entering a building
Hand sanitizer is mandatory
No contact with artifacts and displays
Respect the 2 meters of physical distance
Do not enter if you have any flu-like symptoms
Order at Baker's Tavern : Takeout only. Orders will be made through the service window identified for this purpose
Voluntary contributions : The operating mode will be, again this year, in the form of voluntary contributions. Boxes will be placed in all buildings and customers will themselves deposit the money inside. Contributions are essential to the sustainability of activities and help support our non-profit organization in its mission of preserving heritage. Customer support will be essential, especially this year.
Modified schedule for the 2021 season
Sunday: CLOSED
Monday: 10 a.m. to 5 p.m. (REDUCED OPENING, souvenir shop and an outside guide only)
Tuesday: 10 a.m. to 5 p.m.
Wednesday: 10 a.m. to 5 p.m.
Thursday: 10 a.m. to 5 p.m.
Friday: 10 a.m. to 5 p.m.
Saturday: 10 a.m. to 5 p.m.