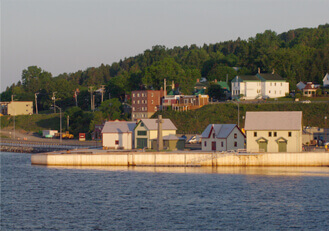 Tours and Rates
Inaugurated in July 2016, the Birthplace of Canada is the heart of Gaspé restored as it was in the 1900s. A Heritage Home, Seaplane Base, Warehouse, Naval Base, General Store, Souvenir Shop and Tavern with refreshments are available on site to provide a memorable visiting experience. Historical figures animate each location and share historical facts on the history of Gaspé with guests. You will also find the famous reconstructed Jacques Cartier Cross that illustrates the claim of 1534.
VISIT THE BUILDINGS OF THE POINT
Come meet and interact with the historic characters of the city's history.  Boxes of voluntary contributions will be in each building, so you can contribute to the maintenance of our activities. Your support is essential to the radiance of the site and to the sustainability of the activities organized by our organization!
VISIT OF THE LEBOUTILLIER HOUSE
The Leboutillier house was built in the 1850s. Come and discover its unique history and meet our guides interpreting Horatio Leboutillier and his spouse Henriette Fauvel. Enjoy a good tea and a small biscuit at the end of your visit!
Admission (tx incl.): Adult (18 years old +): $ 5.00 | Youth (6 to 17 years old): $ 4.00 | Child (5 years old and under): free | Family (2 adults and 2 youths): $ 15.00 | Group of 10 people or more: $ 4.50 / person
GUIDED VISITS OF DOWNTOWN GASPÉ (IN FRENCH)
Accompanied by a costumed guide, walk through the streets of downtown Gaspé to learn about the history of the city. Heritage buildings, anecdotes, history segments and visits of unknown places will be part of the proposed tour!
Duration of the walking tour: About 1h30
Starting place : Departure will be from Souvenir Shop, on the Birthplace of Canada site.
Reservations : By phone: 418-368-9423 or at the Birthplace of Canada office (located at the souvenir shop). Group limited to 22 people per departure.
Admission fees (taxes included): Adult (18+): $ 7.00 | Youth (6 to 17 years old): $ 5.50 | Child (5 years old and under): free | Family (2 adults and 2 children): $ 21.00 | Group of 10 people or more: $ 6.00 / person
Note: The city-tour is available in French only but can be offered in English for groups of 10 people or more upon request. Reservation required.